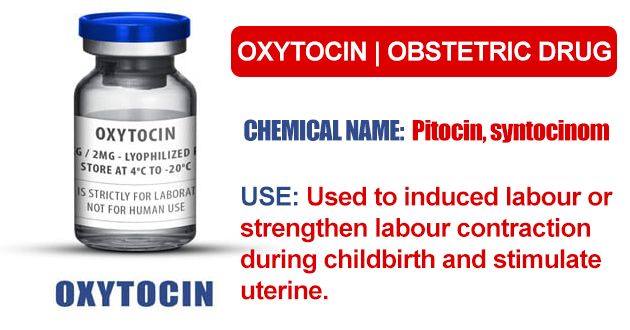 OXYTOCIN
CHEMICAL NAME: Pitocin, syntocinom
USE: Used to induced labour or strengthen labour contraction during childbirth and stimulate uterine.
ACTION: Uterine contraction and lactation, mammary gland stimulate.
DOSE: IV or IM-5-10 units (infusion)
INDICATION:
To induced or stimulate labour.
To reduce postpartum bleeding abortion.
Incomplete or Inavitable bleeding abortion
CONTRAINDICATION:
Uterine rupture
Invasive cervical carcinoma
Active herpes genitalia
SIDE EFFECTS:
Nausea
Vomiting
Loss of appetite
Stomach pain
Cramping
NURSING RESPONSIBILITIES:
Patient maintain adequate fluid balanced with drug therapy.
Patient does not develop edema.
Patient and family state understanding of during therapy.
Check the vitals like temperature, blood pressure, pulse and respiration.